About Chim Cheree Chimney Specialists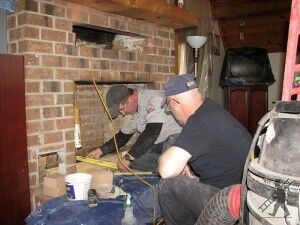 Chim Cheree, The Chimney Specialists is located in Greer, South Carolina and has been keeping the chimneys, fireplaces and dryer vent systems of Upstate South Carolina functioning safely and efficiently since 1978. We are a family-owned and family-operated business, and all of our technicians are locals, dedicated to looking after their neighbors. In our 35 years in business, there's not much we haven't seen, built, repaired or installed, so whatever your problems or design concepts, we're confident we can help.
We're Specialists & We Care!
We truly believe you'd be hard pressed to find better-equipped, skilled or educated chimney sweeps and dryer technicians in the Upstate South Carolina area. All of our sweeps are CSIA (Chimney Safety Institute of America)- and NFI (National Fireplace Institute)-certified, and are incredibly passionate about what they do. As a business, we strive to provide the highest level of quality and care to each and every one of our customers. We know that everyone's home and heating needs are different, which is why we always take the time to listen and provide customized solutions. With Chim Cheree on the job, you won't have to worry about the process or the results – we guarantee your satisfaction.
Some Of The Services We Specialize In:
We Offer The Best In Preventative Care!
At Chim Cheree, The Chimney Specialists, we have seen the savings in money, time and frustration that preventative chimney care can make. As a business, we've made it a priority to offer our customers the best preventative products on the market. If you'd like to know more about how these products can help, feel free to give us a call! We'd be more than happy to go over the different options and their benefits, so that as a homeowner, you can make wise and informed decisions to protect and preserve your investment. Click here to schedule your appointment online
Scheduling with us is easy. So if you live in Upstate South Carolina and are looking for a certified, skilled and trustworthy one-stop shop chimney & hearth care provider, look no further than Chim Cheree!