Certified Chimney Services
For more than 35 years, Chim Cheree, The Chimney Specialists has been dedicated to helping customers in Upstate South Carolina and the surrounding areas enjoy beautiful, warm, and – most importantly – safe fireplaces and stoves.
Our family business is based in Greer, South Carolina and was launched in 1978. Through the years, we've serviced, built, installed, and repaired every kind of heating unit and chimney imaginable! Our work has ranged from rebuilding masonry fireplaces and chimneys in historic homes, to installing sleek new factory-built units in brand new buildings. At Chim Cheree, The Chimney Specialists, our focus is on thorough, efficient and honest service. Why? The answer is simple – the people who hire us aren't just our customers, but also our neighbors. In fact, all of our technicians are locals, living and working in the Upstate area. We're also certified by the Chimney Safety Institute of America and the National Fireplace Institute, and are constantly learning and improving our skills to better serve our neighbors.
If you have a chimney, you can count on us to make sure it's well maintained and performing as safely and efficiently as it should.

What Chim Cheree, The Chimney Specialists Can Do For You
Chimney Inspections
The National Fire Protection Association (NFPA) and the Chimney Safety Institute of America (CSIA) recommend that your fireplace, stove, and chimney be professionally inspected annually, to make sure everything is operating properly. Our technicians will provide a thorough inspection that will keep you and your family informed and safe.
Troubleshooting
When a problem arises in your chimney system, it takes expert eyes and instincts to find the source of the issue and properly correct it. Our expert technicians have come across every chimney issue imaginabl. So, when you have a problem, we're here to help!
Smoking Chimneys
A chimney can start smoking because of simple issues (like user error) or far more complex ones. Our technicians will figure out how to stop your chimney from smoking – and we won't recommend any work that you don't really need.
Chimney Sweeping
Along with chimney inspections, chimney sweeping is an incredibly important part of annual maintenance. When you need your annual sweeping, call us! We'll conduct a clean, thorough sweeping job, and a Level 1 inspection, as well.
Leaky Chimneys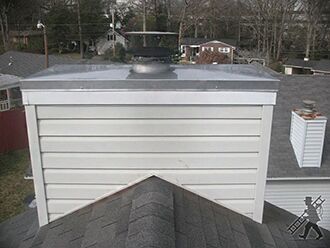 Is water is getting into your system? Then give us a call! We'll find the problem or problems and make the right repairs to get you back to enjoying your fireplace or stove.
Waterproofing
Applying a vapor-permeable waterproofing sealant can significantly extend the life of your masonry, and keep frustrating chimney leaks from happening. Talk to our technicians about this preventative option, we highly recommend it!
Relining
Your flue liner plays an important role in the safe operation of your fireplace or stove. If your liner is damaged or if your older chimney doesn't have one – give us a call. We can install a great new liner that will last through years of safe, efficient enjoyment. At Chim Cheree, The Chimney Specialists, we are proud to offer and install durable stainless steel liners and the cast-in-place Supaflu chimney lining and relining system!
HeatShield®
Minimally damaged clay tile flue liners may not need to be replaced. HeatShield® is a great product that can affordably and safely restore a liner. Our technicians regularly install this great product, so ask if it might be right for your chimney system!
Install Chimney Caps & Dampers
Chimney caps and dampers play important roles in your system, from protecting against the intrusion of water to increasing energy efficiency. If your cap or damper is damaged and needs to be replaced, our technicians can recommend high-quality products and provide professional installation.
Fireplace Rebuilds & Renovations
It's not easy to stand up to the heat and byproducts of a roaring fire, so sometimes a fireplace needs to be renovated or rebuilt. Chim Cheree technicians have the skills and experience to handle any and every kind of fireplace renovation work, from rebuilding a failing firebox to repairing fireplace masonry.
Chimney Rebuilds & Repointing
As strong and resilient as bricks and mortar are, over time, the need for repairs can arise. If your mortar joints begin to erode or your bricks begin to crack and crumble, let Chim Cheree technicians help by providing proper, lasting repointing repairs and masonry rebuilds. If your chimney's damage is significant enough for a rebuild to be the safest option, we'll build a beautiful new chimney that will provide years of worry-free enjoyment.
For all your chimney needs, contact Chim Cheree, The Chimney Specialists at 864-895-4204 or click here to schedule your appointment online!
At Chim Cheree, we also install wood stoves and inserts. Talk to us about what options will work best for you!